David H. Watson, DVM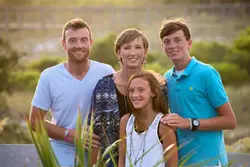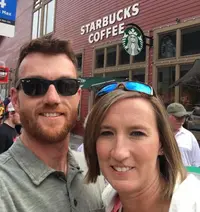 David Hugh Watson, DVM is the second son of Mr. Don and Mrs. Sherrie Watson of Brandon. Don and Sherrie have been residents of Brandon for over 15 years, having moved from Pearl in 1997. Dr. Watson is married to Jami Watson (formerly Jami Chambers), a 1994 graduate of Brandon High School. They have two children, son - Connor (19 yrs) and daughter - Macie (15 yrs). Dr. Watson has an older brother, Myron Watson and an older sister, Lanell Johns; both of whom reside in Brandon.
Dr. Watson is a native Mississippian; born in Hattiesburg and grew up in Pearl. He is a 1994 graduate of Pearl High School. In 1999, he graduated with honors (Cum Laude) from the College of Agriculture and Life Sciences at Mississippi State University with a bachelor of science (B.S.) degree in Animal Science. During the summer of 1999, Dr. Watson was accepted into Veterinary School among a class of 49 students; at that time his class had the highest incoming cumulative GPA (grade point average) to attend veterinary school at Mississippi State University. During veterinary school, Dr. Watson served as a class officer, as well as the Rho chapter president of Alpha Psi Veterinary Fraternity. Dr. Watson received his Doctor of Veterinary Medicine degree in 2003 from The College of Veterinary Medicine at Mississippi State University.
Immediately upon graduation, Dr. Watson accepted an associate position at Barry County Veterinary Service in Cassville, Missouri. BCVS is mixed-animal practice in Southwest Missouri. Dr. Watson soon became an integral part of the community, being a member of the local Rotary Club and active in the church. Dr. Watson was well-regarded by his clients, colleagues and other members of the community while in Cassville.
In October of 2006, Dr. Watson's father was diagnosed with a terminal cancer. Upon learning this news, Dr. Watson and his wife decided to move back "home" to Brandon. Unfortunately, Dr. Watson's beloved father lost his battle with cancer recently but his spirit lives on at Brandon Veterinary Clinic. Dr. Watson hopes to continue to be a positive influence to the Brandon community and build a high quality veterinary practice to provide excellent service to the Brandon area.
Dr. Watson resides in Brandon with his wife and children, and their pets - "Delta" a black Labrador Retriever, "Echo" a yellow Labrador Retriever, "Bridgett" a French Bulldog, "Truvy" a French Bulldog rescued from a mill, and finally "Batman" a tuxedo Domestic Short Hair cat.
Dr. Watson has completed an IRONMAN triathlon. He is a member of the American Veterinary Medical Association and the Mississippi Veterinary Medical Association. Dr. Watson and his family are members of and actively worship at Pinelake Church, reservoir campus.
---
Patricia Mann, DVM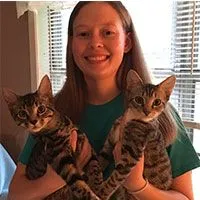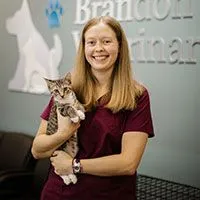 Dr. Mann was born in Starkville, MS and grew up in Sylvarena, MS. She is a 2009 graduate from Sylva Bay Academy. She attended Jones County Junior College for 2 years then transferred to Mississippi State University to complete a Bachelor of Science degree in Animal and Dairy Science in 2013. Dr. Mann began at Mississippi State College of Veterinary Medicine in 2014 and attained her Doctor of Veterinary Medicine degree in 2018. During vet school, Dr. Mann was active in the Feline Club and Shelter Medicine Club. She also volunteered and fostered frequently with the Homeward Bound Project of Mississippi. Upon graduation, Dr. Mann accepted an associate position here at Brandon Veterinary Clinic.
Dr. Mann co-owns her dog "Blondie" with her twin sister who recently graduated vet school at Mississippi State University. Dr. Mann has a love for cats and owns 2 kitties, Todd and Elmo. In her free time, Dr. Mann loves exploring outdoors with her dog and likes fishing occasionally. She also enjoys spending a day lounging at home watching Netflix or reading.